Start Date
19 October 2008
End Date
23 October 2008
Venue
Stall No: E7 - 22,
Hall No. 7,
Dubai International
Convention and
Exhibition Center, sDubai
VISIONTEK participated in the Gitex Exhibition 2008 in Dubai-UAE, the premier trade event and one of the biggest and most spectacular IT exhibitions in the world.The event was organised by Electronics and Computer Software Export Promotion Council (ESC)for Indian Pavilion.
GITEX is the largest and the most successful event of its kind in the Middle East. Ranked the third most important IT exhibition in the world, it has firmly established itself as the premier international exhibition for the computing and communications systems and applications dedicated to the IT industry and the entire business environment.
The show featured over 1500 exhibiting companies from 100 countries. Over 1,50,000 trade visitors from 119 countries attended GITEX 2008. The exhibition featured numerous IT product launches and major announcements about new developments in the IT and communications markets.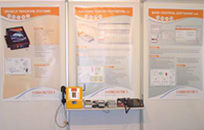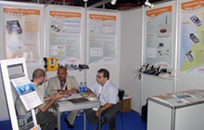 Gitex 2008: Visiontek mission and focus:
The most important purpose of this exhibition is finding the appropriate and relevant customer base segment to addressing fundamental aspects to the country such as developing the state of art technologies for telecommunication and banking sectors in payment and non payment POS terminal business, FCT/FWP's, VTU's, Data Converters and Software products. All these products reflect our core expertise in various telecommunication technologies Fixedline-PSTN, Ethernet, Wireless-CDMA, GSM and Wi-Fi. Continuously stimulating and developing the knowledge and education on the subject of complete range of our products, improving the quality of existing infrastructure, improvement of services provided to business. The objective of this event is to demonstrate and accessing the success in wake of these projects as well as putting up the new challenges in various untapped regions