Start Date
10 September 2009
End Date
12 September 2009
Venue
Pragati Maidan,
New Delhi, India
SmartCards Expo provides the ground to the Companies to exhibit their products & solutions built around Smart Cards to the world wide Visitors. Organized by Electronics Today-India's first Techno-Economic Electronics Monthly Journal, this Expo attracts every year more than 8,500 visitors, of which over 6,500 were Business Visitors from all over India, neighboring, and SAARC countries.
Linkwell Telesystems Pvt. Ltd. is one of the leading Manufacturers of Transaction Terminals, GPS Products & Wireless Modems under the Brand Name of 'VISIONTEK'. SmartCards Expo 2009, held on September 10th to 12th, 2009 at Pragati Maidan, New Delhi, India, gave us an excellent opportunity to showcase our unique range of Handheld Devices-91 POS, 92 POS, 93 POS & 94 POS.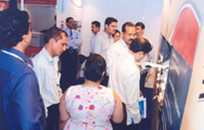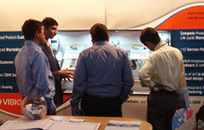 These devices are specially designed to address the needs of various Segments like: Financial Inclusion, PDS, NREGS, Microfinance, Utility, Insurance, Loyalty, Field Data Collection, Police Challan, e.t.c. This Expo gave us an opportunity to meet important Prospective Business Leaders of various Organizations.